Peter William Dizozza
321 East 12th Street, Apt. 8 -- NY, NY 10003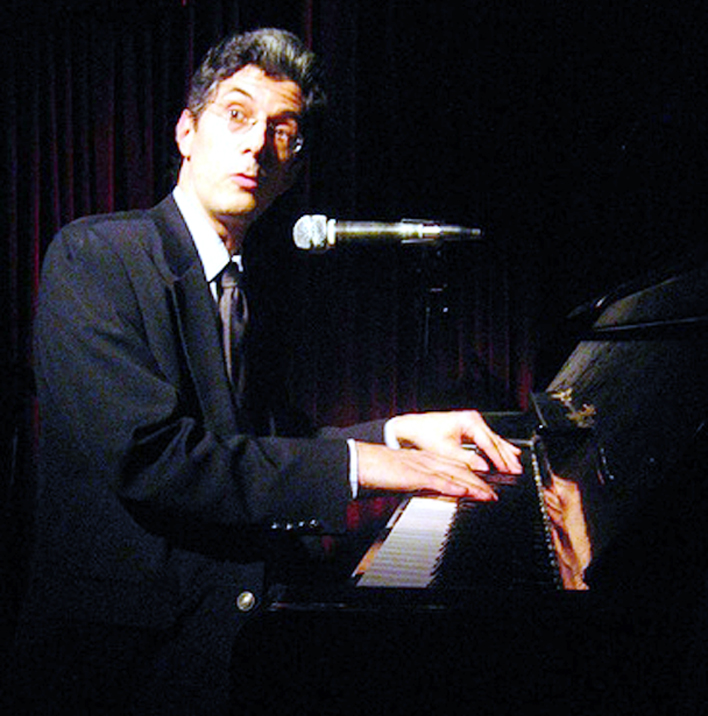 January, 2005
Peter Dizozza uses music, words and images to express his version of collective and objective reality. Preferring an experimental approach, his work consists of theatrical scripts, musical scores, surreal film exploration and the publication of several music and soundtrack CD's.

Theatre Director for The Williamsburg Art and Historical Center, he serves on the Entertainment Committees of The Lambs Club and The City Bar Association. His modern ballet with dialogue, "The Marriage at the Statue of Liberty" (after Cocteau) debuted in Williamsburg in 2003. The soundtrack of his 2002 political musical/comedy "The Golf Wars" is soon to be published. His controversial CD "Pro Choice on Mental Health" published in 2001, mixes music with analytical monologues documenting the tragic ironical consequences that can result when the disenfranchised inhabitants of NYC's lower east side collide with government social service agencies. His new play, "TentagatneT" opened La MaMa E.T.C.'s Experiments '05 Reading Series.
Website: cinemavii.com.
May 2, 2002
Dossier for The Williamsburg Art and Historical Center's Theatre Director
Peter Dizozza (Composer/Writer/Pianist/Performer/Photographer/Filmmaker b. 1958, Forest Hills, NY) is the author of the cult musical mystery play, "Prepare to Meet Your Maker," a whirlwind pageant of afterlife themes led by Quasimodo and Cementeria. Directed by Tyr Throne, it was successfully revived with a 14-member cast at the Williamsburg Art and Historic Center during their Apocalypse 1999 Multi-Media Exhibition and has had 24 performances since its inception in 1996.
A soundtrack of its 13 songs performed by The Porters Union and members of the original casts was recorded at Electric Lady Studios in September, 2001.
His latest musical play, "The Golf Wars," had its first reading at La MaMa E.T.C. on April 5, 2002. Its soundtrack, "Songs of The Golf Wars," is produced by Major Matt Mason, USA.
His contribution to the Manhattan Theatre Source 48 Hour Spontaneous Combustion Production of March 24-26, 2002 is entitled "Gala & Ligeti."
His musical play, "The Last Dodo," is a love story/comment on sex and civilization about an explorer from New York who changes history and saves the legendary dodo bird. "The Last Dodo" premiered at The Williamsburg Art and Historical Center an played from February through April, 2001, at Baby Jupiter, 170 Stanton Street at Orchard Street, New York, NY. A film version commenced production in June, 2001.
In the past six years he introduced these, and four other musical plays, "The Peace Mission," "Witchfinders," "Coppelia" and "The Eleventh Hour," at La Mama E.T.C.'s La Galleria reading series.
Marilyn Majeski produced and directed "Coppelia" through her Wing and a Prayer production company at the Gene Frankel Theatre in 1998.
In 1999 he produced staged readings of "The Eleventh Hour" at the La Tea Theatre in the Clemente Soto Velez Cultural Center.
He is music director for the Forest Hills Gardens Women's Club, providing a score for their production of "The Great Enchanted Forest" (2000) and for "Murder by Music" (the detectives musical, 2001).
He composed music for "Convertible," by Elizabeth West Versalie, produced at La Mama E.T.C.'s main stage in 1997. The "Convertible" soundtrack features the voice of Catherine Russell.
He performs a monthly piano set at the Sidewalk Bar-Restaurant (94 Ave A at E6th St, NY) where he originated the monologues/song cycles "Pro-Choice on Mental Health," "Exploring a Fascination with Things that Spin," "When the Kangaroos Come Out," "The Blood of a Poet," "The Secret to Good Sex (Abstinence)," and "The Philosopher's Stone," and the short play, "Shipping the Satellite." The audio recordings of the Pro-Choice on Mental Health songs and text are produced by Joe Bendik.
He has written over 150 songs, and numerous works for solo piano.
He composed song settings for poems of Thomas Hardy and T.S. Eliot, and for Shakespeare's "As You Like It," and "The Tempest," which toured City parks during the summer of 1991.
He composed a choral score for Neil Ericksen's musical play based on the myth of Atalanta, entitled Legs Like These (QWIRK's Actor's Equity Showcase, One Dream Theatre, 1992).
In the cabaret field (Don't Tell Mama, Trocodero, Duplex) he collaborated with Margaret O'Hanlon (1987-88) on "Infidelity," "Infidelity Reformed," "Tropical Depression" and "The Hoagy and Peter Show," and with Lisa Dery and Tyr Throne on "A Nite of Love" and "Possession" (1996-7)
He wrote and performed a calypso theatre piece, "A Trip to Bermuda" for Charles Strouse's A.R. Gurney Project as part of the ASCAP Music Theatre Workshop.
He was Assistant Conductor on "We Are Innocent," an album of Julius and Ethel Rosenberg letters set by the composer, Leonard Lehrman.
With Maggie DaSilva, he helped to reconstruct the score and present a backers' audition for Marc Blitzstein's labor opera, "No For An Answer."
He is the author of three novels, "Storm Cloud, (1981)" The Resurrection (1974, revised 1985), and "Mark of the Librarian" (1998).
He received Piano training by Edgar Roberts and George Sahagan and vocal training by Alice Garrett.
A Member of the Dramatist Guild, Graduate of the Humanities Program and Aaron Copland School of Music (Queens College, 1981), St. John's Law School (1986), the BMI Lehman Engel Music Theatre Workshop (1994), and even, in 1997, the Landmark Education Self Expression and Leadership Program, the offspring of "Erhard Seminar Training" or EST. In 2001 the Board of Directors of The Williamsburg Art and Historic Center appointed him their theatre director.
He is an artist and in-house counsel for Cinema VII, an entertainment collective that administers his creative catalogue.
Two of his early films, The Ruins (1971) and Angels: Tour of the Vultures (1977) received successful screenings in the year 2000 at film festivals that he helped to organize, including a silent film/live music event at Manhattan Theatre Source in October.
The following computer programs assist him in his work: Finale, Photoshop, Logic Audio, Dreamweaver, the MGI and DVI video card programs, as well as the default programs provided by Microsoft. Photos, information and samples of his work may be found at https://www.cinemavii.com.
A native of Forest Hills, New York, for the past eleven years he has resided in the East Village of New York City.
Since 1999 he has helped organize permits and act as NYC Liaison for AntiFolk Fests in Tompkins Square and Central Parks.
Travel outside the tri-state area
International travel includes: Rome, Milan, Naples, Ischia and San Giuseppe, Italy -- Chiasso, Switzerland (1974).
A summer semester in Exeter, England through the law school of the College of William and Mary, (1985), with trips to London, Paris, Bath, Bristol, Plymouth, Salisbury, Edinburgh and Inverness.
While a participant in the Union Internationale des Avocets, Strasbourg, 1988 he visited Stuttgart, Freiburg, and Paris.
In 1989 he took trips to Frankfurt, Munchen, Hamburg, Buccholz, Berlin, in Germany and Brandt, Austria.
Bus Tour of Norway (1989)
Nova Scotia, Canada 1986
1991, Buenos Aires, Argentina, Iguaçu Falls, Brasil
2000 Venice, Salo', Genoa, Pisa, Florence, Livorno and Lucca
2001 Jacksonville Florida to New Orleans
2001 Grand Rapids, Michigan
2001 New Orleans to Phoenix
2002 London/Glasgow
2002 Oil City, Pennsylvania!!!
memberships
He is admitted to the Bar of the State of New York.
He is a member of
The Entertainment Committee of The Bar Association of the City of New York,
The Lambs Club
The Dramatists Guild
------
Peter Dizozza's Star Galaxy Page
Occupation: Composer
Born: September 5, 1958
Citizenship: USA
Education: BA & JD, Music, English, Philosophy, Humanities, Law
Other Jobs: Attorney
Milestones: Married, June 21st, 2003 -- Divorced April, 2006
Biography:
Family Members: Monica Dizozza, sister, Madeleine and Nicholas, Parents, Margaret Carillo, grandparent
Bibliography:
Last Update: