1997 Photos Below!
On a Strange Folk Sunday -- Bastille Day, 1996 -- at Lach's Fort at The SideWalk Bar-Restaurant in the East Village of NYC, Peter Dizozza and Lisa Dery introduced "Prepare to Meet Your Maker," a heavenly musical that consists of 9 dances and 12 songs, in which Quasimodo and Cementeria, a gravedigger and a corpse, revitalize and invigorate each other through the miracle of interpersonal contact.
Audiences witness the transformation of the two at their first meeting, the loss at their separation, and watch in satisfaction as they reunite to re-enact the resurrection passion play of Isis & Osiris, all in furtherance of their ultimate goal, a comfortable home within the exclusive, pearly gated community of the Ordered World.
On July 13, 1997, Prepare to Meet Your Maker returned to SideWalk to celebrate its eighth performance.
The following photos of the show are by Fort photographer Bob Strain. The performers include Peter Dizozza, Erika Bell, Jamie Cosnowsky, Charles Herold, Kerrigan Webb and Debra Wakefield.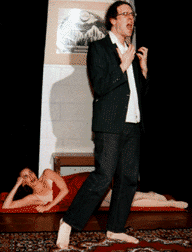 In the performance at 22 Below Cabaret the role of Quasimodo was played by Charles Herold.—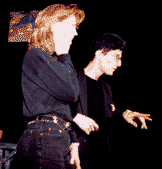 —After necropheliac bashers banish Quasimodo (originally played by Peter) from the Ordered World, he enlists Mathilda to help him find Cementeria.