Welcome to Dodo World, home of
The Last Dodo, by Peter Dizozza
After two performances at the WAH Center, It ran for Three Months (February - April, 2001) at BABY JUPITER! Filming commenced in June, 2001. For preview stills click here.
Synopsis Page -- WAH Center
Synopsis Page -- Baby Jupiter
See below for Video Stills from the October 21st Performance
with John Seroff, Amy-Jo Mikiel, Aashish Pathak, Genia Michaela, Kimberly Mossel, Jorjeana Marie, Linus Gelber and Grey Revell, with Costumes, Make-up & Set Design by Patricia Grace
Begin your tour of other dodo pages HERE
Linus Gelber (Patroff/Raymond) joins this cast after a last-minute romp in Peter Dizozza's last musical surreality, "Prepare to Meet Your Maker." This time he plays characters with names, which is a step up. Linus is the founder of Home Office Records, an independent record label; he was a founding Board member of Karin Coonrod's Arden Party Theatre Company back in the day (Marat in "Marat/Sade" and Sganarelle in "The Doctor in Spite of Himself," among others) and performed in New York, London, Dallas and Berlin before settling down to rock and roll. Selected roles: The Professor in "Insignificance," Bernie in "Sexual Perversity in Chicago," Cadmus in "The Bacchae," Imposter #1 on "To Tell the Truth" as a kid. Linus has been writing poetry and prose for many years and his reviews of the music scene can be found on musicdish.com. Visit Home Office Records at http://www.web-ho.com and feel free to throw seed money.
Jorjeana Marie (Night Prof./Safari Bar Chanteuse) loves performing with all her heart and sincerely appreciates every audience she has had the opportunity to communicate with. Being almost as funny as she looks, she has entertained in comedy clubs throughout Europe and the U.S. Past Film/TV credits include "Riding in Cars with Boys" directed by Penny Marshall, "Private Parts," directed by Betty Thomas, Cosby, Law and Order, and the lead role in the pilot, "Dolly." Theatrically she has explored the works of Shakespeare, Chekov, Miller and other artists Off-Broadway and in Italy (Teatro Colosseo) Currently, Jorjeana is in rehearsals with Director Gus Smythe for "Call 911," her solo show premiering in January 2001. More thank you than room to print to the inspiring and supportive Ronald A. Rutherford.
Amy-Jo Mikiel (Myessence Missolini, The Last Dodo/Young Dodos of Chernobyl) Born in 1975 in the Bronx, New York, daughter to Joanne & Joseph, hence the "Jo". As a young girl, her participation in extracurricular activities ranged from dance classes, gymnastics, softball and soccer to musical education including guitar. These are just a few things that would set the pace for her future involvements and would shape her art to perform on the stage and screen. Two years after graduating with BA in business from Pace University, she would get involved in the world of theatre, where she had a principle role in the off Broadway musical play, "Prepare to Meet Your Maker," her first introduction to the world of Peter Dizozza. She has been involved on the small screen playing minor roles such as on HBO's "Sex in the City," and a Fast Productions independent "XX/XY." She continues her involvement in the nightclub scene, dancing and choreographing underground club events around New York City. She is featured on www.allhiphop.com, and is filming an independent cast as the lead role in the romantic comedy, "Dream Cherry."
Kimberly Mossel (Maryanne Zeffero, ages 8 & 86), Recently, Kim toured with Pink, Inc., a children's theatre/dance/art group, performed with theatre group Dzieci as a possessed nun, and portrayed Angel Trumpet in Mr. Dizozza's "Prepare To Meet Your Maker." Music major at Western Michigan University.
Margaret Price (Jerri Zeffero) This multi-talented native of Louisiana makes her New York Debut tonight!
Grey Revell (Golnik/Lustig) Popular singer/songwriter with three albums currently available, "Midnight Eye," "Crazy Like and Ambush," and the new "Green Train," making an acting debut this evening, sharing his talent, together with his spouse, Patricia Grace, and their child to be.
John Seroff (Harry Zeffero) works eight hours a day, five days a week in a user-friendly office. He fantasizes about strangers on the subway, but not in an especially unhealthy way. He keeps busy. John met Peter five weeks ago and has since developed an affinity for flightless fowl, preferably boiled.
Meghan Burns (Choreographer) Attended the University of Pennsylvania where she minored in theatre. Roles included "Hurly Burly", "Dancing at Lughnasa" and other regional theatre. Dance training includes work with Alvin Ailey. Meghan provided choreography for the film "Blue Moon," with Ben Gazzarra and Chita Rivera. She has portrayed the role of Cementeria in 16 performances of "Prepare to Meet Your Maker."
Peter Dizozza (script, score, Tomas) A composer trained in the Lehman Engel BMI Musical Theatre Workshop, Dizozza wrote scores for Neil Ericksen's "Legs Like These," Shakespeare's "The Tempest," Helen Slayton Hughes' adaptation of "Girl of the Limberlost," and Elizabeth West Versalie's play with music, "Convertible." In 1996 he returned to producing through Cinema VII with "Shipping the Satellite" "Coppelia," "Witchfinders," "The Eleventh Hour," "Storm Cloud," "The Peace Mission," and last year's revival of his 1996 cult musical Mystery Play, "Prepare to Meet Your Maker." His children's musical, "The Great Enchanted Forest," written with Christine Evangeliste, has had two performances this year at the Forest Hills Gardens Community House. Peter Dizozza is a member of the Dramatists' Guild. He appears monthly as a solo performer at the Sidewalk Café on 94 Ave A (See him December 19th at 10PM).
David Dragov (Producer, "A Private Land, Wacky Version") An orchestral hip/hop Singer/Songwriter/Producer represented by his album, "For He's A Jolly Good Fellow."
Patricia Grace (Set & Costume Design) Author, Graphic Artist, Puppet Maker, Grey Revell Spouse, Future Mother, Singer/Guitarist/Songwriter, her new CD, "Name Her Lucky" produced by Spencer Chakedis, was released on October 28th.
Aashish Pathak (Producer, incidental music "Blade Fields") Aashish has also played starred in Peter Dizozza's "Prepare to Meet Your Maker." He is a multi-instrumentalist musician who currently plays drums with "Tony Hightower" and bass with "SeeKen" He is currently working with Peter to produce the soundtracks for "Prepare to Meet Your Maker" and "The Last Dodo."
The Throne Dance Theatre was created and designed by Tyr Throne. It has housed productions of the Tribe and the Evolutionary Foundation.
n visit the website at https://www.cinemavii.com for upcoming dodo events.
The Seven Songs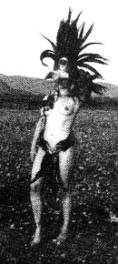 Act One
My Mother's Son
Let It Go
Kill Me Now
A Private Land

Act Two
My Partner
Give a Life
Bok Choi
Additional Credits:
Maryanne Monologue by Laurie Bannister.
Incidental dodo music: "A Private Land, Wacky Version" produced by David Dragov.
"Blade Fields" produced by Aashish Pathak.
Script Consultants: Voltaire Balderrama, Ms. Bannister, Linus Gelber, Tony Hightower, Robyn Hussa, Kim Mossel, Monica Russell & Tyr Throne.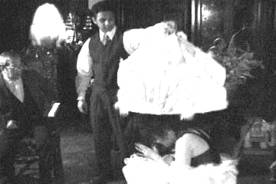 Great thanks to this groundbreaking cast, and to the cast members of prior readings, Linda Kobylinski, Ray Shiel, Christian Desmond, Michael Draper, Meghan Elizabeth Burns, Tony Hightower, Diane Cluck, Stephen Espinola, George Raheem Ramos, Jr., Aashish Pathak, Genia Michaela and Kimberly Morris, and to George Ferencz (The Last Dodo originated as a concert reading on April 15th as part of La MaMa E.T.C.'s Experiments '00 Series).
Thanks to the 5C Cultural Center and Yuko Nii and Terrance Lindall of the Williamsburg Art and Historic Center for hosting the first staged Readings. Thanks to our anonymous patron.
Contributions to future productions may be sent to CinemaVII, 321 East 12th Street, #8, NYC, 10003
Thanks to Tyr Throne for sharing his wonderful Throne Dance Theatre.