Adam Green -- writer, singer, performer, guitarist. His collaboration with Kimya Dawson = The Moldy Peaches --- 2007 Note: "Jacket Full of Danger" is a great album.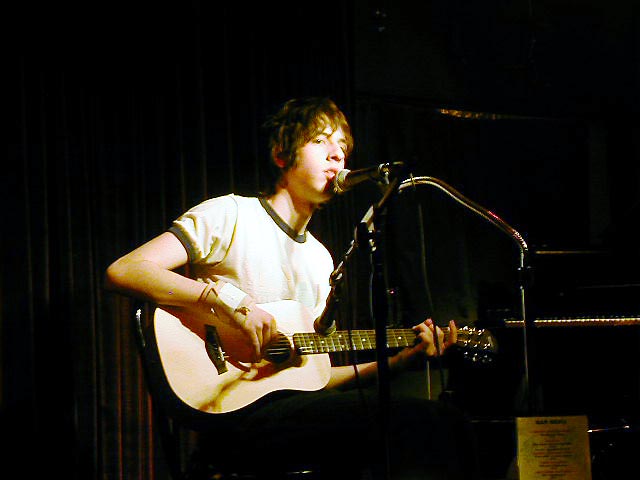 A photo lost from this page when the site disappeared in September, 04, was saved at http://hometown.aol.com/autumnshadezine2/adamgreen-friendsofhis-1.html
For more -- a lot more -- visit the phenomenal online magazine http://www.autumnshade.com of Kristin Angelique.
People listening to his songs often enjoy references they can relate to themselves.
PTMYM note: A sample lyric of Adam Green from Olive Juice's Antifolk Compilation finds words following one another in a manner reminiscent of a Max Ernst surrealist collage.
The title to that song, Mozzarella Swastika, offers a shape alternative to a cheese pretzel with the three-ring ballantine shape.
The song ends with an addendum to the "Prepare to Meet Your Maker" necrophilia myth which awakens a new list of problems.
gonna go the graveyard 
to get some beggin' done
gonna dig up Megan 
and cut out my son
--------------
Here's an email received by the Cinema VII site:
Subj: AdamGreen
Date: 12/30/2002 5:28:07 PM Eastern Standard Time
From: Scotten@brooklynbp.org
To: dizozza600@cs.com
Received from Internet: click here for more information

Hello, I'm trying to reach Adam Green so that Marty Markowitz, the Brooklyn Borough President can send him a holiday card. If the is the writer that wrote about Lightn Up Brooklyn..could you please respond back. Thank You.

Scott Cotten
MIS/Facilities Director
Office of the Brooklyn Borough President
209 Joralemon Street
Brooklyn, New York 11201
718-802-3759
718-802-3979 Fax
Add your own information here!
Click galactic negative for a Return to the Galaxy