(page from 2002)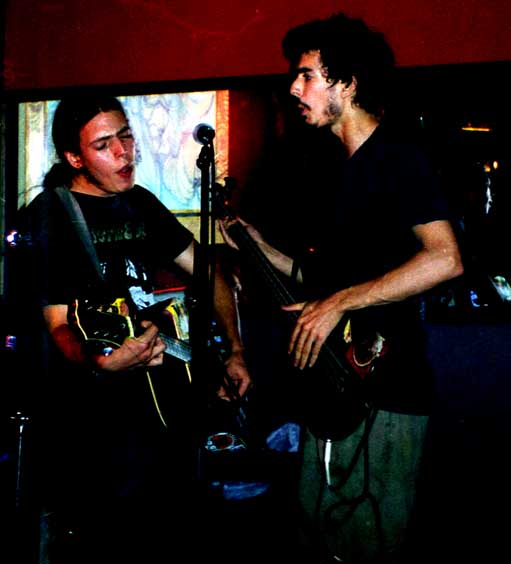 Seen here with his brother, Jack, Jeff's performances, his songs, his creative work, the pleasure of his company, all these enhance our lives. His new album is available from Rough Trade Records, the company distributing the works of Strokes and Moldy Peaches. His Rough Trade Records page is at http://www.roughtraderecords.com/jl.html.
His picture announcing the East Village Outdoor Antifolk Review is here.
Jeff created memorable covers for the Fanzine, Antimatters, such as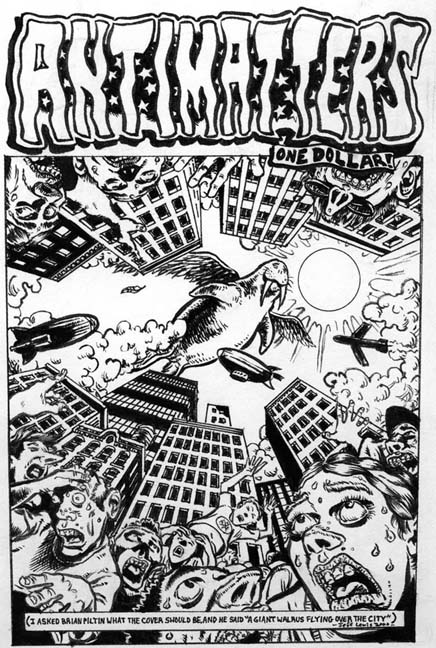 this one.

Entertainment Weekly, June 21, 2002

Copyright 2002 Time Inc.
Entertainment Weekly

June 21, 2002

SECTION: LISTEN 2 THIS #02; Pg. L2T10
LENGTH: 1456 words
HEADLINE: Discoveries;
Yeah, there's great music out there. Like, out there...on the fringe. A look at this month's indie platters that most matter.
BYLINE: Will Hermes

... JEFFREY LEWIS The Last Time I Did Acid I Went Insane (Rough Trade/Sanctuary) If Woody Guthrie were a painfully self-doubting wiseass lamenting his shortcomings in the success-obsessed playground of 21st-century New York City, he probably wouldn't sound half as brazen or hilarious or heartbreaking as this lo-fi folk joker. If the number about decomposing into East River scum with That Special Someone doesn't get to you, try "The Chelsea Hotel Oral Sex Song," a cry-in-your-Snapple ballad about his inability to score with a comely girl while discussing Leonard Cohen that turns into a poignant meditation on love songs. FOLK WISDOM According to the title track, the Seventh Rule of LSD says never "look too deep into your soul, or you might find a hideous hopeless hole." B+ -------------

Jeff originated the role of Eric in The Eleventh Hour. Click here for its pictures page.