THE MARRIAGE AT THE STATUE OF LIBERTY
A Modern Ballet with Dialogue
Script & Score by Peter Dizozza (after Jean Cocteau)
Choreographed by Jamie McKenna for the EMIAJ Movement, LTD.
Created for The Brave Destiny Exhibition
Click here for the genesis of this project. Youtube scene Youtube Ballet Excerpt
Four Performances: Friday and Saturday at 8.
October 10th, 11th, 17th and 18th, 2003.
The Williamsburg Art and Historical Center -- 135 Broadway c/o Bedford Avenue (by Peter Luger's) 718-486-6012
Relationships are like statues. They receive attention or collapse from neglect.
A surrealist theatre fantasy celebrating everyday life while paying homage to its poetic mysteries,

with a script and score by Peter Dizozza, full of his favorite everyday themes and references to popular entertainment,

and with original choreography by Jamie McKenna performed by EMIAJ MOVEMENT LTD.,

created for the 2003 Brave Destiny Exhibition and inspired by "Les mariés de la Tour Eiffel," the surrealist ballet with dialogue by the French Poet/Filmmaker Jean Cocteau

Synopsis

When two members of neighboring cloisters fall in love, a Universal Life Church Minister directs their happy nuptial party to board a ferry to celebrate the ceremonies, sacred and profane, of marriage on Bedloe's Island on the former site of Fort Wood, within the torch of the Statue of Liberty.

The affianced couple shed their robes for the clothes of immigrants at the turn of the last century, greeting the torch bearing statue as their guide out from their old world to a new home in a welcoming new world.

They find the Statue closed to visitors. Only the outside grounds on the island are open.

After an oft interrupted ceremony, steeped in Hinduism, beneath the shadow of liberty, they separate from their party to explore the undersurface of the island.

Dusk falls and, during what must be acknowledged as a RARE lapse in security, the couple spends their first night on the island, alone as Lady Liberty herself, completes the ceremony.
Dance Program
The first movement piece: The Emigration
This piece illustrates the quintessence of the Statue of Liberty with its pilgrimage of expatriates to the America. The dancers represent both the vessel of conveyance and the new comers. As the piece evolves, the dancers begin to move independently. This progression symbolizes the diverse and abundant hopes, dreams and desires that fuel a sojourn to a strange land. When moving in unison, the dancers reveal the common impediments and apprehensions, as well as harmony shared by immigrants to liberty. As this is also true of marriage, this piece foreshadows the impending nuptials and the daunting task of merging two worlds into one in a way that will house the age old struggle to thrive as an individual while building a new construct of true liberty in wedlock.

The second movement piece: The Marriage Blessing Dance
At the command of Colossus, the Supplicants dance in joyful celebration of the marriage.

The third movement piece: The Nocturnal Fantasy
This piece depicts the wedding night thoughts of the new bride and groom. [The husband's thoughts are depicted by the male dancers; those of the bride by the female dancers.] The Brides exude felicity for having been liberated from the search for a life partner. The Husbands dance in rapture having been liberated from their search to be loved. The Husbands & Wives dance synchronously, yet retain their individual liberty as their parallel commitments come to life
THE CAST
Lauren Amick (The Bride): Lauren is a native from St. Louis MO. Directly after finishing high school, she moved to New York and has recently graduated from the American Academy of Dramatic Arts. This is Lauren's New York City debut and she is originating the role of "The Bride." Her favorite roles include "Sissy" from A Piece of My Heart; "Susand" from Don't Drink the Water; "Carter" from Uncommon Women; "Kim MacAfee" from By Bye Birdie; and "Corey" from Only 17. Lauren wishes to thank God, her Mom, Dad and Champion.
Joseph Mulholland (The Groom): recently recieved hi B.A. in Theatre Performance
from Wagner College. He was last seen in a showcase performace at the John
Houseman Theatre. He is very excited about being apart of this production. .
Kate Murphy (Colossa).
Peter Dizozza (Colossus).
Peter Douglas (Vulcan). This is Mr. Douglas's first performance on any stage anywhere.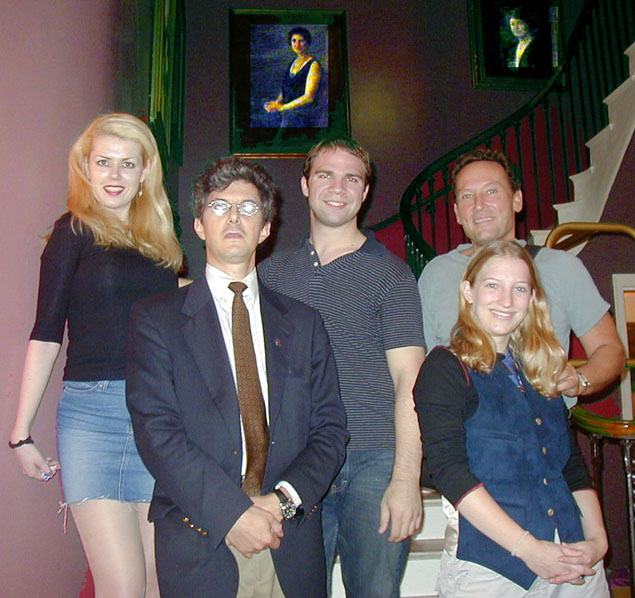 and introducing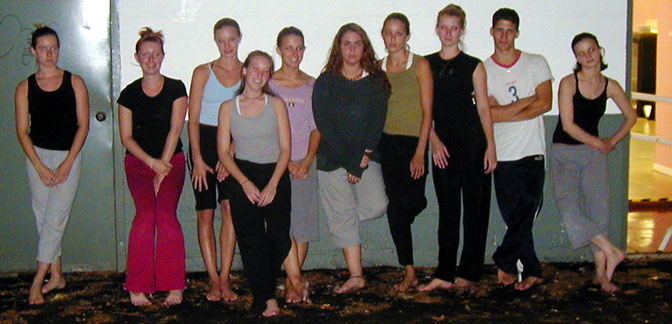 EMIAJ Movement Ltd.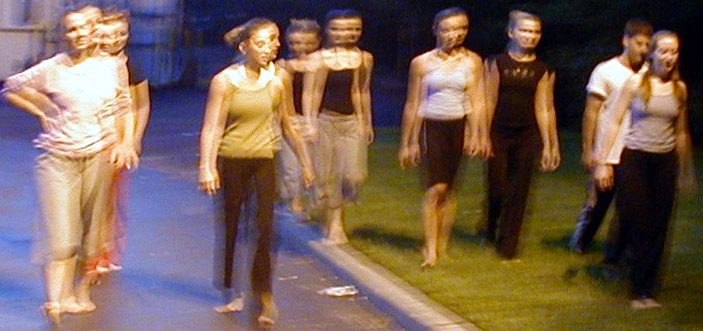 EMIAJ Movement Ltd.
Biographies
Jaime Lyn McKenna, (Choreographer & Artistic Director) graduate of Dean College, co-founded EMIAJ Movement Ltd. in 2003 as the natural out growth of twenty years of extensive and eclectic dance studies which include technique at Martha Graham Dance Studio, Alwin Nicholia Studio, Erick Hawkins Studio, Broadway Dance Center (master classes), Frank Hatchet, Makumi Sakata, Sue Samuel and Bill Hastings, Denise Jefferson and Savion Glover. Ms. McKenna began her dance training at the age of three and has won competition accolades, a complete list of which is too numerous to mention. Among her titles are Starpower Regional & National Champion soloist in Lyrical, and competitor in Ballet, Tap & Jazz; American Dance Spectrum Regional Dance Competition Champion in Ballet, Tap & Jazz, choreographer for the Brookhaven Theater Dance Guild "DanceSpectrum"; Dance Educators of America Regional Competition champion in Ballet, Tap & Jazz and most recently, the 2003 Outstanding Choreography Award at the New York Dance Festival. Ms. McKenna's desire to form her own professional dance company seems that natural next step in a fifteen year career as a professional dance teacher with some of the most notable studios on Long Island, among which include Backstage Studio of Dance, Pat Hannafin's Dix Hills Dance Studio, Backstreets Dance Center, Re-dancers Dance Studio and Dance Elektra. Brave Destiny challenges EMIAJ to portray an eclectic and fantastic expression of the universal quest for love and acceptance in the face of daunting obstacles through contemporary movement .
Alison T. Deruga, (Smithtown, New York) Alison was a high school dance major and earned a spot on the Dean's list at Suffolk Community College. She is currently studying Business Technology at SUNY Farmingdale. Ms. Deruga has extensive experience in choreographing in all genre` of dance for children at numerous local venues and dance schools, including Backstreets Dance Center. She came amply prepared to join EMIAJ, having over 10 years experience in ballet, jazz, lyrical and extensive training in African, Modern and tap.
Eden Lily Drasser (Bellport, New York) Ms. Drasser has been dancing since she was two. She studied at Stage Door in East Patchogue and Backstage Studio of Dance in Suffolk County. She is accomplished in lyrical, jazz, tap, ballet, Pointe`, and Modern. Ms. Drasser has won two gold medals in modern dance competition and continues to expand her dance education at Broadway Dance Center.
Shea Drasser (Bellport, New York) Ms. Drasser began dancing when she was five years old. She studied at Stage Door in East Patchogue and Backstage Studio of Dance in Suffolk County. She is accomplished in lyrical, jazz, ballet, Pointe`, and Modern. Ms. Drasser augments her dance ability with gymnastic and twirling talent and has successfully competed in numerous dance competitions. From 1988-1991, Shea competed regionally and nationally for both the twirling team and as a solo artist.
Theresa A. Jesinger, (Stony Brook, New York) Theresa earned her bachelors in Fine Arts at SUNY College at Brockport in 2003 where she was also a member of the Brockport Dance Team. She was seen in A Fall Through Time (Choreographed by Susanna Newman, 2003) and Assuage (choreographed by O'Neill Pryce, 2002). Ms. Jesinger has been dancing since early childhood at Backstage Studio of Dance. She has been trained in jazz, lyrical, hip-hop and has concentrated her studies extensively in ballet and Modern. She is presently working with Dance Jock Productions, a D.J. company based in Brentwood, New York.
Erin Judd, (Riverhead, New York) Ms. Judd began dancing at the age of five at Redancers Dance Studio and has studied ballet, tap, jazz, lyrical, modern, Pointe`, and hip-hop. She has an extensive continuing dance education that includes numerous workshops and classes at many prestigious venues. Ms. Judd has won High Silver and Gold medals at the prestigious Starpower, Dance Olympus and Footloose dance competitions. Most recently, her choreography was made a part of three Fresh Dance shows at SUNY New Paltz. Erin currently teaches dance at Redancers Dancers Studio and Stars on Stage Dance Academy.
Kimberly Kwasna, (Riverhead, New York) Kimberly majored in dance at Hofstra University and was on the Deans list for eight semesters. Ms. Kwasna's impressive list of dancer performance credentials includes numerous 2002 performances as a dancer for recording artist Renee` at various venues in New York. Ms. Kwasna was a member of Sheila Kaminski & Dancers (2001) and the prestigious Joan Eileen Murray Dance Company (1999-2000). A brief list of her credits includes Choreographic Offering (by Jose` Limon, reconstructed by Alice Condodina, 2003) Veil of Plenty (choreographed by Peter Pucci, 2002), Rhythm Walkers (choreographed by Anita Feldman, 2002), Sospiri (choreographed by Donald Mahler 2002), Night Flight (choreographed by Karla Wolfangle, 2002). Additionally, Ms. Kwasna's choreographic work has been seen in various community theaters and high schools on Long Island in more traditional musicals such as Dream Girls, Crazy for You, No Frills Review, A Chorus Line, Annie, Footloose and Alice in Wonderland.
Elyse Madsen, (Amityville, New York) Elyse's passion for dance is supported by her extensive and impressive movement and dance education. She was a dance major at Hunter College and has a BFA in Arts Management with a concentration in dance. As a member of the Long Island University, C.W. Post Dance Company, she has performed at The Clark Theater, Lincoln Center [Choreography of Ivy Baldwin & Maureen Mansfield], the Tilles Arts Center and as a main stage performance at the LIU Little Theatre. Ms. Madsen has also been seen at the Sylvia and Danny Kaye Playhouse as an ensemble member of the Hunter College Dance Company.
Jeanne Marie Petruzzi, (Port Jefferson Station, New York) Jeanne's diverse dance talents combine expertise in the traditional dance genre` of tap, jazz, ballet, hip-hop and Modern with award winning stylistic grace as a champion cha-cha, rumba and samba ballroom dancer. Ms. Petruzzi has co-choreographed and performed in Married in the Suburbs (2001) and has been seen in a variety of venues as a member of the prestigious Odyssey Dance Company (Ballroom). She has studied at Backstage Studio of Dance and continues her dance education at Broadway Dance Center. Ms. Petruzzi teaches dance at Dance Elektra and has taught at Port Jefferson Dance Academy.
Mark Petruzzi, (Port Jefferson Station, New York) Mr. Petruzzi is a member of the prestigious Odyssey Dance Company (Ballroom) and has been seen at the Gateway Playhouse in Footloose. He also performed and co-choreographed Married in the Suburbs. He has also performed Dancesport Challenge at Madison Square Garden. Mr. Petruzzi's credits also include a promotional piece for Japanese television and performing a piece by Geoffrey Doig Marx at the 2002 Elan Awards honoring Ann Reinking. Mr. Petruzzi has taught dance at many of Long Island's most prestigious venues.
Jimmy McKenna: special effects lighting
Linda McKenna: costumes
Linda Drasser: prop sculpture.
All inquiries regarding EMIAJ Movement Ltd. may be directed to Barbara M. Weltsek, Executive Producer at IBMWESQ@aol.com
THANK YOU, SPONSORS: Tony's Barge Service, Inc., Spins Academy of Gymnastics
THANK YOU propmakers Stiegelbauer Associates Inc. for your donation of the statue base.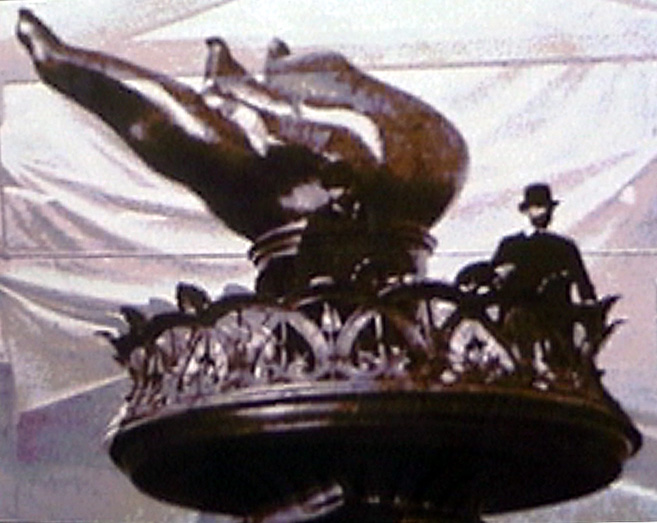 ________________________________________________________________________________
New York Times October 10th, & 17th, 2003: A selective listing by critics of The Times of new or noteworthy opera, classical music and dance events this weekend in the Northeast.

SURREALIST DANCE AND THEATER. The Brave Destiny festival of Surrealism, Magic Realism and other fantasy art forms will include two shows featuring dance. The first is "The Marriage at the Statue of Liberty," described as a modern ballet with dialogue. The choreographer is Jaime McKenna, the performers the Emiaj Movement Ltd. group. Tonight and tomorrow night (and next Friday and Saturday) at 8. And Zach Fuller will perform "Surrealism Butoh Dance." Sunday night at 8. Williamsburg Art and Historical Center, 135 Broadway, at Bedford Street, next to the Williamsburg Bridge, Brooklyn (718) 486-7372 or www.wahcenter.org. Suggested admission: $15 (Dunning).
In other news: Area Arts Roundup SUNDAY NEWS (LANCASTER, PA.)
October 5, 2003, Sunday
Lancaster artist Rick Huck has taken his place alongside the world's leading surrealist artists in "Brave Destiny," the world's largest show of living artists working today in surrealism, surreal/conceptual, visionary and fantastic.
The prestigious exhibition is now in place through Nov. 3 at the Williamsburg Art & Historical Center, 135 Broadway at Bedford Avenue in Brooklyn.
Huck, an art instructor at Ephrata Area High School, is represented by "Just on Time," a 24-by-21-inch colored pencil-on-paper creation. The work also was featured in the recent Lancaster Summer Arts Festival exhibition at the Lancaster Museum of Art. His meticulously detailed graphic work also graced the posters for several of the LMA annual Trees Galore exhibitions.
His fellow exhibitors include such notables as George Tooker; Academy Award winner H. R. Giger ("Alien"); Ernst Fuchs, founder of the Vienna School of Fantastic Realism; and Damian Michaels, visionary artist and publisher of Artvisionary Magazine. Select works by Salvador Dali also appear on loan from a private collection.
The exhibition is the cornerstone of a surrealist expo at WAH, including staging of the play "The Marriage at the Statue of Liberty" by Peter Dizozza (after Jean Cocteau), Oct. 10-11 and 17-18; and a surrealist Butho dance, Oct. 12.
Exhibit hours are noon-6 p.m. Saturday and Sunday. For details, call (718) 486-7372 or visit online at www.wahcenter.org .