Author of grand uprisings of the prodigiously self-expressed. Creates real world fantasies to show how easily they can be toppled. Founder of The Dinosaur Sisters, The Sharon Fogarty Dance Theatre, Musical Dance Plays include "Heaven," "The Bride of Frankenstein ~ an experiment in intimacy", "The Overdevelopment of Scott," and "Next to Nothing," for which she also wrote a fantastic title song. She performs improv as one of the founding members with Jason Grossman of Funny-Sheesh!

June 2002 Update. Sharon Premiered a new musical about fame issues in the '80s entitled "Putnam" which features a beautiful score of songs, some of which are inspired by the styles and poise of the famous people she assigns to sing them. The transcendent cast included Al Quagliata, Bobbi Ownes, Jason Alan Griffin, Jason Grossman, Jenni Frost, Karne Christie Ward, Linda Kobylinski and Sharon with lighting design by David Alan Comstock. Aashish Pathak and Sanjay Kaul were the orchestra. The Devil of Delancy Street, coming Fall, 2005!

Notable Quotes:: With regard to starving artists: "Art goes very good with lunch, or dinner..."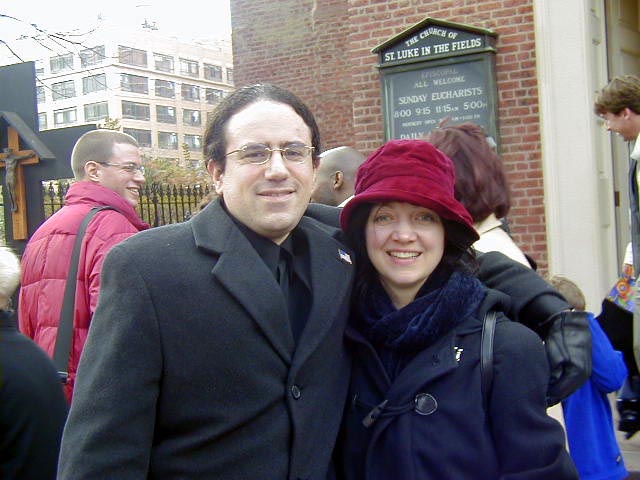 sharon fogarty seen here with Kenny Davidsen.
Add your own information here!
Click below for a Return to the Galaxy