NEW! La MaMa E.T.C. produces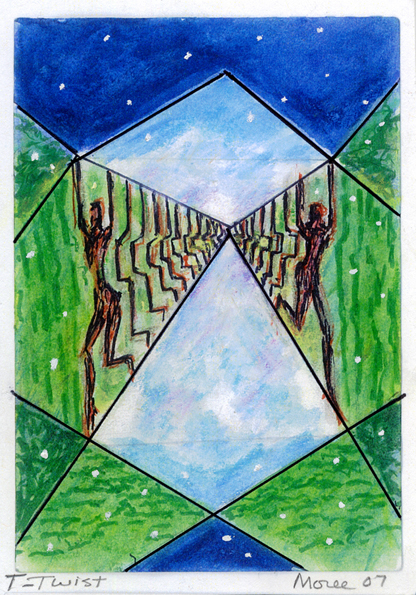 a staging of my Experiments 2005 play, TentagatneT, a word derived from the magical extension of a simple Pup Tent. The tent pups up behind a mountain cottage and allows for the interaction between two couples. I also wrote a score of incidental music to accompany the dialogue and I will play from that score during the performances.
TentagatneT, October 2007, premier casting, staging and direction by George Ferencz. Four Performances in repertory during the Experimenta! Festival. 7:30PM
2. Saturday October 27th,
3. Wednesday, October 31st and
4. Thursday, November 1st, 2007
A New York Magazine Critics' Pick
La MaMa e.t.c. presents EXPERIMENTA! A FESTIVAL OF PLAYS Celebrating 10 Years of La MaMa's Play Reading Series. Directed by George Ferencz. Costumes by Sally Lesser, Lights by Federico Restrepo, Scenic Art by Mark Kehoe, Sound Design by Tim Schellenbaum, Production Management by Juile Rosier, Press Representative Jonathan Slaff. TentagatneT Script and Score by Peter Dizozza. Cast: Dot: Leslie Ann Hendricks, Gormin: John Andrew Morrison, Orma: Sonja Perryman, Joralmon: Chris Zorker, Guy: Sarah Ford, Gary: Ulrich Flada.
-------------------------------------------
La MaMa E.T.C. presents, "Experiments '05," Concert Readings of experimental plays at the La MaMa Annex. George Ferencz, Curator. Funding for this program provided in part by the NEW YORK STATE COUNCIL FOR THE ARTS, the AXE-HOUGHTON FOUNDATION and the JOHN GOLDEN FUND.
INTRODUCED at 7:30 P.M., Monday, January Tenth, 2005.
A conservative couple confronts their mirror radicals when, by accidentally crossing the spikes, they turn an old army surplus pup tent into a TentagatneT
A new magical comedy.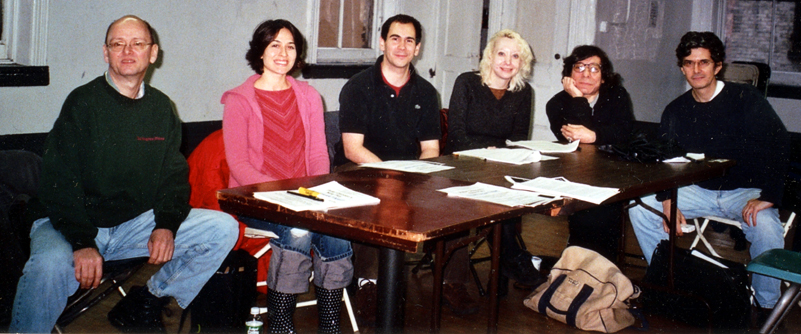 JAMIE ANSLEY (Orma Dial) is a Second City New York trained actor and improviser. She is pleased to work with George Ferencz for the second time after finishing a run of PIECEWORK at the Theater for the New City. Last Spring and Summer, Jamie played the role of Ambassador Princess in the hit comedy, "Keanu Reeves Saves the Universe" at the People's Improv Theater. Jamie works as a professional clown magician around the city and recently performed her magic at the Hammerstein Ballroom for a crowd of over a thousand people.
FELIPE BONILLA (Gormin Dial) was just seen at Theater for the New City in PIECEWORK, directed by George Ferencz. This is his first time at La MaMa ETC and he would like to thank George Ferencz and Peter Dizozza for this opportunity. Felipe is currently studying at HB Studio.
BOBBY FAUST (Joralmon Wigdor) began his acting career here at La MaMa, and has also performed in other downtown venues including The Public, and Theatre for the New City, twice under the direction of George Ferencz. Bobby has also appeared in a myriad of rock, country and Rap videos. Bobby was part of the original acting ensemble in Baz Luhrman's production of Puccini's La Boheme on Broadway. Much more information and oriignal graphic art are available on Bobby's website www.Faustgraphics.com.
JIM SEAMAN (Narrator) will be reading the stage directions tonight.
JENNIE VATH (Dot Strant) recently was featured as Amelia Earhart in the Luna Theatre production of Karen Sunde's new play, THE FASTEST WOMAN ALIVE, which was first read in the Experiments '03 Season. A graduate of NY, Jennie has appearared in many readings in the Experiments Series, as well as having acted in many plays in NYC.
PETER DIZOZZA (Playwright) uses music, words and images to express his version of collective and objective reality. Preferring an experimental approach, his work consists of theatrical scripts, musical scores, surreal film exploration and the publication of several music and soundtrack CD's. Theatre Director for The Williamsburg Art and Historical Center, he serves on the Entertainment Committees of The Lambs Club and The City Bar Association. His modern ballet with dialogue, "The Marriage at the Statue of Liberty" (after Cocteau) debuted in Williamsburg in 2003. The soundtrack of his 2002 political musical/comedy "The Golf Wars" is soon to be published. His controversial CD "Pro Choice on Mental Health" published in 2001, mixes music with analytical monologues documenting the tragic ironical consequences that can result when the disenfranchised inhabitants of NYC's lower east side collide with government social service agencies. His website: cinemavii.com. Thank you to George Ferencz and The La MaMa Reading Series.
Second performance with the added ingredient of music, SideWalk, 9PM, Tuesday March 29th, 2005.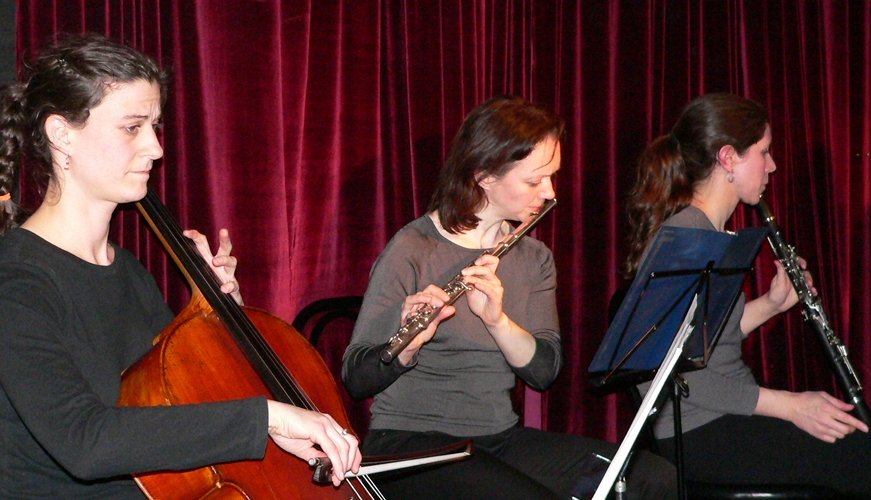 Cello: Leah Coloff. Flute: Sharon Fogarty Clarinet: Julie Schmacher (Guitar part played at the piano: Peter Dizozza)
The Score includes the following: SONGS -- "Hold On" and "Let Your Life Begin."
Radio Mike has more photos by Pierre Jelenc, which need an updated link.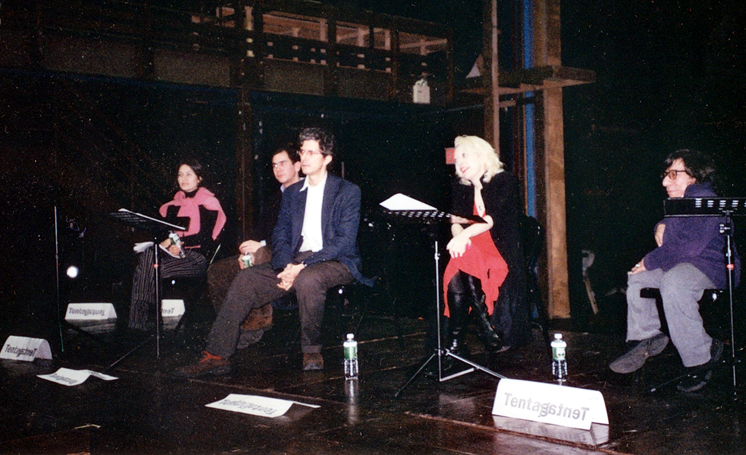 return to PROJECTS