Performance #1
Thanks to Ellen Stewart and Beverly Barry of La Mama, on October 26th, 1997, Cinema VII introduced the musical adaptation of Peter Dizozza's 1995 Novelty Book, "Witchfinders," adapted for four readers -- they were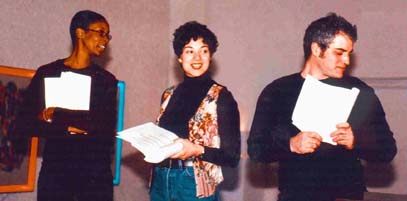 Erika Bell, Lisa Dery, Peter Dizozza and Chris West --
at La Mama La Galleria.
6 East First Street (between 2nd Avenue and Bowery).
Performance #2
Saturday Evening, November 29, 1997, 8:00-10:00, The Second Performance of
PETER DIZOZZA's WITCHFINDERS
A Revised Musical Adaptation of the Novelty Book of the Same Name
Directed by: Debra Wakefield
Script and Score by: Peter Dizozza
Research Assistance: Chris West
Rehearsal Space Provided by: Throne Dance Theatre

Characters in order of appearance:
Michelle/Unsuk/Jenni -- Lisa Dery
Vivian/Jalta Jivaro/Grandmother -- Erika Belle
Billy/Sheriff/John Biffy, Sr. -- Tyr Throne
Willie Thompson/Ian/Doctor Antony -- Jim Vogel
Fire Marshall/Mark -- Ernest Febles
John Biffy, Jr./Father in the Bristol Episode -- Chris West
Edwin Weed(Jimmy) -- Peter Dizozza
Sveva Caldonado/John's Mother -- Donna Ong
Jackie/Scene Setter -- Emma Hogarth

THE SONGS
1. We're Living
2. Bay Bees
3. White Moon
4. Donna's Engine's Always Running
5. Song of the Witchfinder ("And I Love Them Still")
6. Elvis Presley's Witchcraft (by D. Bartholomew & P. King)
7. Hermit Song
8. Give Your Love Away ("Grip Your Blip")
9. Witchdoctor (by David Seville)
__________________
A Cinema VII Production
Text & Vocal Score published by O.W.L. Press
Quote from the text:
"The People of Haiti will never know the debt they owe THE WITCHFINDERS!"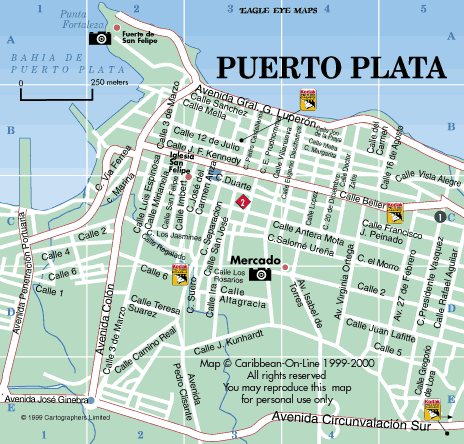 Performance #3
Witchfinders, those nu-age Irvington teens, returned to town Sunday Evening, May 3rd, 1998, for a 22 minute cameo at Theatre 22 (54 West 22nd Street between 5th and 6th Avenues) singing five of their nine songs at

SQUARE ONE NUMBER FORTY-ONE!

a production of The Golden Fleece Ltd. & Composers Chamber Theatre
Lou Rodgers, Producing Artistic Director

We were third of five presentations.
The 22 Minute Witchfinders
Directed by Debra Wakefield!
Guest performers: Monica Dizozza and Liz Brody.
Thanks those of you who came out to a packed house that night.
Interesting Musical Theatre Info
Also on the bill with Liz, Debra, Monica and me were:
"Cupid and Psyche," music Jih Wan Kim (an incredible pianist at 18) with book and lyrics by Sean Hartley of the Lucy Moses School, a 1998 Ascap Musical Theatre Selection (May 13th).
"Sylvia," based on the A.R. Gurney dog personification play, music by Charles Colby Sachs and lyrics by Rene Fectau, a BMI project.
"Algonquin," music Michael Hirsch, book and lyrics by C.J. Critt, a personal reminiscence featuring the ghosts of Benchley and Parker and who else, Kauffman?
"The Last American Dragon," music Eliott Kahn, Lyrics, Clay Zambo and Book, Robert Miller. The lyricist played the piano! Rich Toy-Neumar was great as the dragon.

These performances are funded in part by the Katherine Dalglish Foundation, the Hornet Foundation, The Office of the Borough President of Manhattan, Warren B. Mosler, The Nancy Quinn Fund for Emerging Theatres and the Virgil Thompson Foundation, Ltd. Golden Fleece Ltd. is funded by the New York State Council on the Arts.
For more information on the activities of GOLDEN FLEECE, dial (212) 691-6105.


<—Jivaros "Unsuk" and "Jalta."